[Mixtape] DJ Latitude – "Welcome To The Streets" «
[ad_1]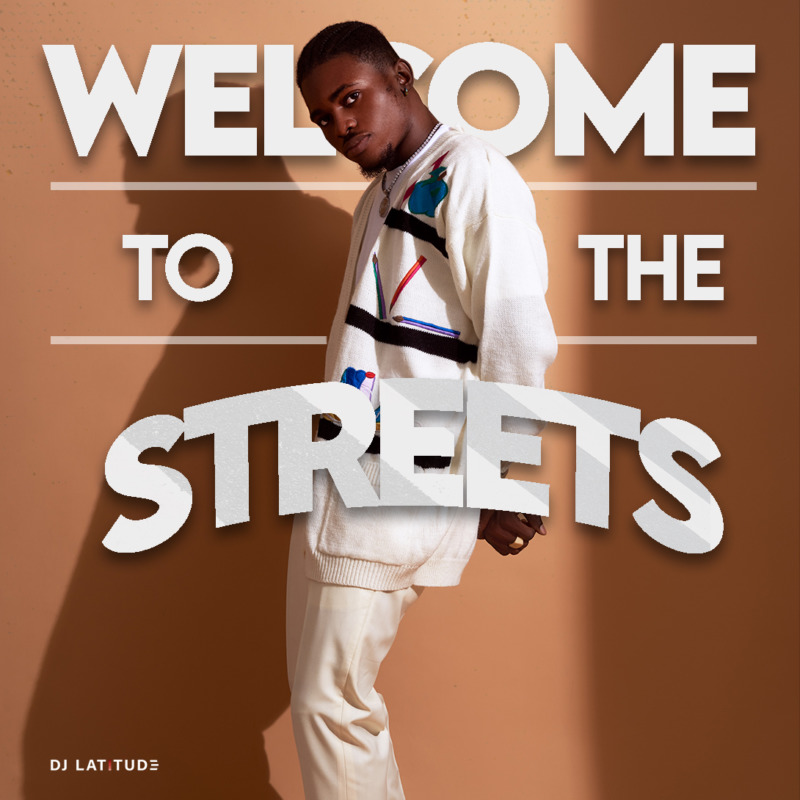 DJ Latitude drops "Welcome To The Streets" Mixtape.
He is back again to the root and base of where it all started from. The Turn Up Initiator is back with the street anthems rocking all airwaves across the country into the globe.
Dj Latitude has blended the songs with the best street slangs, the best dance steps, with his topnotch mixes to form one of the most anticipated mixtapes, "Welcome To The Streets". The star quality songs line up interchanging is amazing and intoxicating to dance to. It's turn up time with this one from the number one Turn Up Initiator.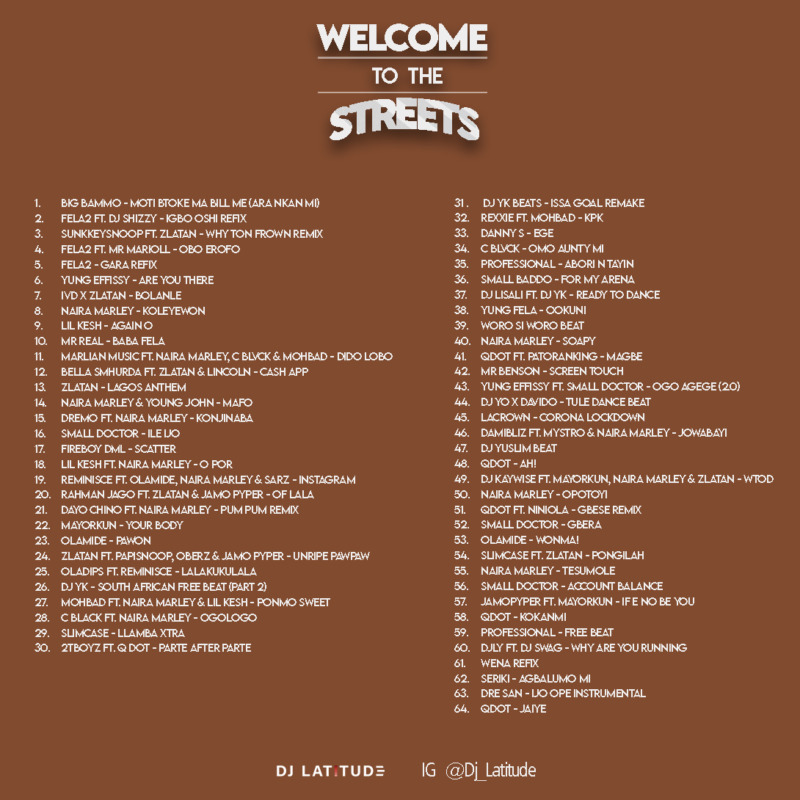 TRACKLIST
1. Big Bammo – Moti Btoke Ma Bill Me (Ara Nkan Mi)
2. Fela2 Ft. DJ Shizzy – Igbo Oshi Refix
3. Sunkkeysnoop Ft. Zlatan – Why Ton Frown Remix
4. Fela2 Ft. MR Marioll – obo erofo
5. Fela2 – Gara Refix
6. Yung Effissy – Are You There
7. IVD X Zlatan – Bolanle
8. Naira Marley – Koleyewon
9. Lil Kesh – Again O
10. MR Real – Baba Fela
11. Marlian Music Ft. Naira Marley, C Blvck & Mohbad – Dido Lobo
12. Bella Smhurda Ft. Zlatan & Lincoln – Cash App
13. Zlatan – Lagos Anthem
14. Naira Marley & Young John – Mafo
15. Dremo Ft. Naira Marley – Konjinaba
16. Small Doctor – Ile Ijo
17. Fireboy DML – Scatter
18. Lil Kesh Ft. Naira Marley – O Por
19. Reminisce Ft. Olamide, Naira Marley & Sarz – Instagram
20. Rahman Jago Ft. Zlatan & Jamo Pyper – Of Lala
21. Dayo Chino Ft. Naira Marley – Pum Pum Remix
22. Mayorkun – Your Body
23. Olamide – Pawon
24. Zlatan Ft. Papisnoop, Oberz & Jamo Pyper – Unripe Pawpaw
25. Oladips Ft. Reminisce – Lalakukulala
26. DJ Yk – South African Free Beat (Part 2)
27. Mohbad Ft. Naira Marley & Lil Kesh – Ponmo Sweet
28. C Black Ft. Naira Marley – Ogologo
29. Slimcase – Llamba Xtra
30. 2TBOYZ Ft. Q Dot – Parte After Parte
31. DJ YK Beats – Issa Goal Remake
32. Rexxie Ft. Mohbad – KPK
33. Danny S – Ege
34. C Blvck – Omo Aunty Mi
35. Professional – Abori N Tayin
36. Small Baddo – For My Arena
37. DJ Lisali Ft. DJ YK – Ready To Dance
38. Yung Fela – Ookuni
39. Woro si Woro Beat
40. Naira Marley – Soapy
41. Qdot Ft. Patoranking – Magbe
42. MR Benson – Screen Touch
43. Yung Effissy Ft. Small Doctor – Ogo Agege (2.0)
44. DJ YO X Davido – Tule Dance Beat
45. Lacrown – Corona Lockdown
46. Damibliz Ft. Mystro & Naira Marley – Jowabayi
47. DJ Yuslim Beat
48. Qdot – Ah!
49. DJ Kaywise Ft. Mayorkun, Naira Marley & Zlatan – WTOD
50. Naira Marley – Opotoyi
51. Qdot Ft. Niniola – Gbese Remix
52. Small Doctor – Gbera
53. Olamide – Wonma!
54. Slimcase Ft. Zlatan – Pongilah
55. Naira Marley – Tesumole
56. Small Doctor – Account Balance
57. Jamopyper Ft. Mayorkun – If E No Be You
58. Qdot – Kokanmi
59. Professional – Free Beat
60. DJly Ft. DJ Swag – Why Are You Running
61. Wena Refix
62. Seriki – Agbalumo Mi
63. Dre San – Ijo Ope Instrumental
64. Qdot – Jaiye
Listen and Enjoy below
---
[ad_2]
#Mixtape #Latitude #Streets #tooXclusive
Do you like this post? Tell us your opinion of this post in the comment section below. What's more, don't forget to use the share buttons below also to share this post with your friends on social media. Get More Updates  from Fapseymedia via Twitter and Facebook For Music/Video/Mixtape promotion on fapseymedia.com, Call or WhatsApp 09050057834
---
Looking for something? Search below
CHECKOUT THESE HOT SECTIONS
---
Pages
---
---