Golden6ix – "Watin Sweet Pass Money" ft. Benkoo « ijegunkonnect
[ad_1]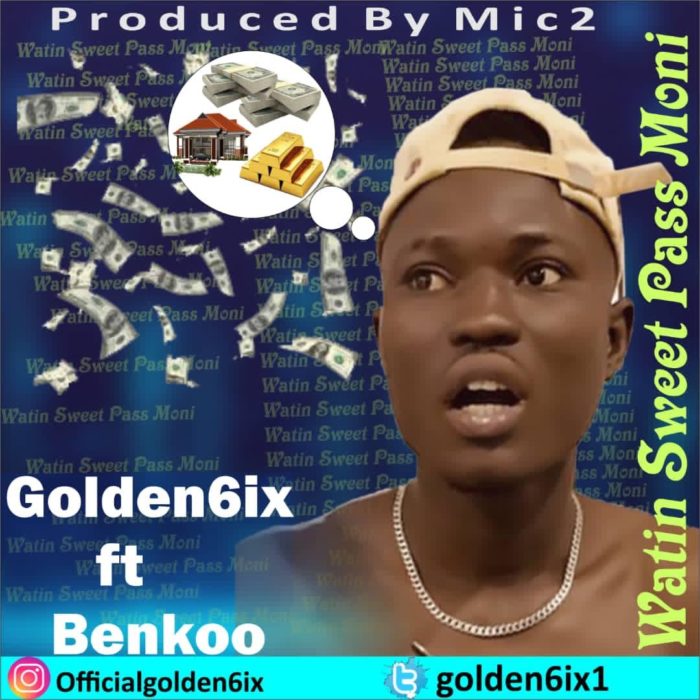 Augustine Okiemute, better know as Golden6ix is a Nigeria singer and songwriter. From the South Delta State, he came with a mind blowing song from his upcoming EP titled "Watin Sweet Pass Money".
The song Watin Sweet Pass Money features Benkoo and is produced by Mic2. 'Money be the ruth of all evil but yet humans nor fit do without money, so nothing fit sweet pass money'
Listen and Enjoy!
Song Lyrics
Intro,
Golden6ix ,
If nor be money matter nor call my phone
If u nor get money u done fuck up yaah.
Chorus
Tell me waiting sweet pass money
Tell me waiting sweet pass money
If u nor get money u be monkey,
My brother don't be a donkey, my brother don't be a monkey.
Omo he done tay, i dey pray omo he done tay i dey fast,
Omo steady risk for the dollar, omo never sleep for the dollar,
Omo God bless me for my mama omo.
Aya gon making money aaa, aya gon nor die young aaaa,
Oluwa make u bless me aaaa don't let them stress me.
First verse
Talking about money, u are talking sense,
If nor be money nor call my phone,
Bill Gates still dey find money, Otedola still dey find money,
Who i be why i nor go find money,
Yaaa i dey find money nor cum dey bother me with ur dirty love.
Nah who get money una go love aaa.
Oluwa make u open my way, aaa don't let bad man know my way,
If i nor make money nobody go reason me,
Oluwa don't living me as i dey work and pray make u guide my way,
Bad energy stay far away make dem nor cum my way.
Verse 2
Listen as i speak, waiting sweet pass money me i don't know,
Once i eat five milli $duls see i done blow,
Making money was the plan, that was ever i wanted,
Brokenness is not funny that's why me i never laughed,
When u nor get money girlfriends nor go rush u,
Fake friends fake friends must surly judge you.
God bless me at lest for my mum,
So that they can't both telling others that they feed me.
If u nor get money u be monkey them go laugh because them seems his so funny,
Dangote still dey find money why me nor go find money have been looking for the money nor stop,
No hate bro is all love money minded een on God, zero hate all love on God.
Outro :
My guy u gat hustle even Dongote self still dey hustle dem Otedola still dey hustle.
My guy work hard this life eehn nah who get money be man o as u fine for face make u pocket fine make ur account galant u supposed no this matter nah, nor go carry last o nor go be monkey last last o my guy work hard i dey fear u nah me dey yan Golden6ix.
---
#Golden6ix #Watin #Sweet #Pass #Money #Benkoo #ijegunkonnect
Do you like this post? Tell us your opinion of this post in the comment section below. What's more, don't forget to use the share buttons below also to share this post with your friends on social media. Get More Updates  from Fapseymedia via Twitter and Facebook For Music/Video/Mixtape promotion on fapseymedia.com, Call or WhatsApp 09050057834
---
Looking for something? Search below
CHECKOUT THESE HOT SECTIONS
---
Pages
---
---